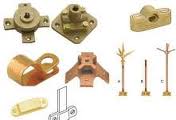 SINAR UTAMA GROUNDING Is a specialist distributor of Conventional Lightning Protection products. Conventional Lightning Rods function as receivers of lightning current surges which are then channeled through the down conductor to be forwarded to the ground (earth). Conventional Lightning Rods are passive, the lightning rods only wait for lightning strikes to come into the bar or called splitzen rods or lightning rods. Sinar Utama Grounding sells Conventional lightning rods or splitzen lightning rods with a variety of brands, types including:
1. Erico Air Terminal
2. Air Terminal Furse
3. AXIS Air Terminal
4. Splitzen Air Terminal - Local
5. Air Terminal Base
and so forth.
For more information about the Grounding System material, please contact us:
SINAR UTAMA GROUNDING
Office:
Jl. Utan Kayu Raya No. 49 C, Utan Kayu Utara - Matraman
East Jakarta - Indonesia 13120
Tel. 021-21381900 | 29827728
Fax. 021-85909641
Email: sug.grounding@gmail.com sug@materialgrounding.co.id
Contact: TATANG T. | SISWANTO
Mobile: 0813 1010 5021 | 0858 8899 3277